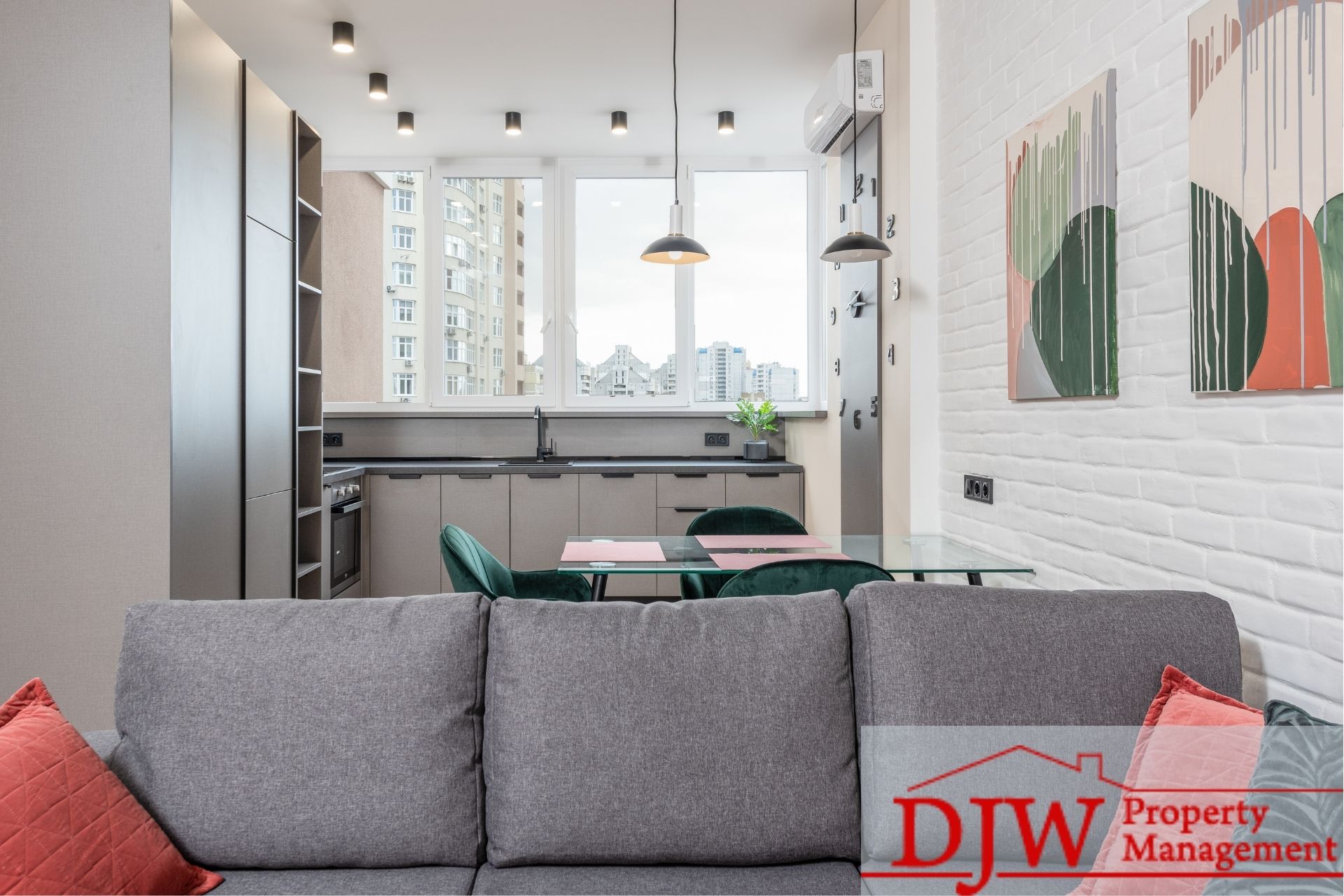 With the population of Idaho steadily growing and property values/average rental rates steadily rising, many families in the Treasure Valley have found themselves looking to downsize their homes.
Whether it is because of "empty nesters" with unneeded rooms, or because people are looking to save money, Idaho property managers are being faced with the challenge of finding smaller houses or an apartment for their clients that are also filled with opportunities to make those houses feel like homes.
If you are looking to downsize but still want to maintain that warm, homey feeling, there are many ways to keep the integrity of your style and space within a smaller area.
Below, we share some of the best small space design ideas for all the rooms in your house or apartment. We will review the benefits of finding unique spaces that provide storage so that you don't need to get rid of all your precious items.
Maximizing Your Living Room Space
A person's home is a sacred space. It is a space where they can come home and decompress from a busy day. It is a safe place for a family to connect, to be free.
From the moment you walk through your door, your space should feel like your own bubble away from the world.
When downsizing to a small house, however, it's hard to keep from feeling a bit claustrophobic when you are used to larger spaces to live in. Take your family/living room for example.
Most small houses open up into the family room. It is the first space that someone sees when walking through the front door, and sets the stage for what is to be expected throughout the property.
There are a couple of ways to maximize space in the living area efficiently and effectively:
Clutter on the Floor
A family room usually contains furniture for family and guests to sit upon. These distinct areas to sit take up a lot of floor space. Because this furniture usually takes up a majority of the room, any other items on the floor can make a room feel cluttered and small.
Maximizing space in the living area can be tough if your floor space is filled with "stuff." People pile blankets, leave toys out, or don't tidy up their day-to-day items. Trying to keep the ground area tidy is a huge first step in maximizing space in this essential room.
A great way to eliminate "stuff" sitting on the ground is by elevating them to a table or bookshelf.
Keeping your floor/clear of clutter and placing items on tables and shelves with raise the eye level of your guests and yourself. When you raise the gaze, people don't feel drawn to the floor.
Vertical Sights
An apartment with a low ceiling may cause pause for adding shelving to the walls for fear of closing the space in more- but adding vertical shelves can actually help open your space up.
Your walls are an opportunity to draw people's eyes up and around your room. They help control the flow of the room. Because of this, placing all wall decorations slightly higher than usual will make the room seem bigger.
Built-in and Hidden Storage
While traditional coffee tables add extra space to store small items, they can accumulate clutter and take up room. However, a new minimal living trend is hiding space within space.
What do I mean?
A trending staple to utilizing space in a small living room is stowaway furniture. There are several options of tables that have room to place cubes beneath for extra seating or table space.
Stowaway furniture allows you to essentially hide furniture items within other furniture items in a fashionable way so that when you need space, you have it. But if you want to condense the items, you have that option as well.
How to Maximize Space in a Small Bedroom
Bedroom furniture is a separate beast in itself. A bed alone takes up a majority of the space available in a bedroom, and most people prefer a bedroom to be more than just a square with just a bed in it.
Your bedroom is an area for rest and retreat. It's a place to kick off your shoes and lay down to relax. It stores your clothing and personal items away from the glances of guests. The bedroom is your own personal retreat.
Multipurpose furniture offers creative ways to store your things in your bedroom while making your small space feel bigger. You can make the most of your space with the use of furniture that serves multiple purposes.
For example, many places that sell furniture also sell cubby shelves that can double as a TV stand, bookcase, and clothing storage area. There are also bedframes that include drawers and shelving for added storage.
Add an end bench for additional storage space at the foot of your bed. This dual-use furniture can be used for extra seating in the bedroom as well as an extra storage area for blankets, clothes, shoes etc.
Another way to save space is by buying a bed frame that includes drawers beneath the bed-maximizing space and adding storage.
What About Space in the Guest Bedroom?
Multifunctional furniture can make a small house feel big when properly placed. If you are fortunate enough to have downsized into a home that includes a guest room, you can utilize multifunctional furniture to create a relaxing area for your guests.
Add a small end table to one side of the guest bed to help keep items off of the ground. It's best to choose a table that is not bulky but instead, has a narrow bottom or exposed legs.
Bathroom Space Savers
By adding a floating shelf or two to the walls in your bathroom, you can easily find space in ways that are decorative and creative at the same time that adds storage.
You can display artwork on the shelves and walls while also hiding extra storage for toiletries. For example, you can place a toilet paper roll or bathroom spray on the shelves for guests to use instead of taking up counter space.
How to Maximize Closet Space
Storage space in closets can be tricky due to the enclosed space. Storage can be maximized when you add shelves or utilize baskets for out-of-season accessories and articles of clothing.
Store your accessories and shoes by adding an over-the-door rack. These racks latch onto the door of your closet giving you more square footage to work with while also helping you stay organized.
Maximizing Space in a Small Kitchen
The stowaway furniture trend used in the living room can also be used in the kitchen. Many modern apartments and small houses do not come with the luxury of a separate dining room. However, expandable tables can be used for a variety of purposes.
These tall, rectangular tables can easily fit into tight spaces and can function as a daytime desk if needed. Chairs can easily be layered beneath the table for more space when not in use and these stylish tables ofter provide extra storage where you'd least expect.
Oftentimes, people will eat at a table in their kitchen area, or at the coffee table in their living room. Any chance you have to incorporate stowaway furniture into your small living space will provide ample opportunities for saving space.
So, what about the cabinets and drawers?
Cabinet and drawer organizers can help you maximize space in your kitchen and are a great storage solution when looking to maximize storage in efficient ways. A lot of the items that many people store on their countertops can be placed in the kitchen cabinets to add a more spacious feel to every square inch of your kitchen.
Avoid placing things on your counters to create the illusion of more space. Kitchen counters may seem like the best place to store most of your items, but too many items on the counter space can feel disorganized.
Pro Tip: Maximize space efficiently in your living room by converting your dining room table into a desk area during working hours.
Create Space With Color
A room's brightness has more to do with creating space in your house than people realize. Your wall color presents a huge opportunity to make a person feel cozy and spacious. Keep in mind that lighter colors on the walls will reflect light while darker colors absorb light.
From carpet to ceiling, try to keep your color scheme consistent. This will help the flow of the living space allowing your guest's eyes to wonder. By placing a weighty, mismatched item amongst a certain color scheme, small spaces will seem even smaller. The disruptive item will pull the focus of your guest's attention making the room seem like a frame for that object as opposed to a living space.
Artificial and Natural Light
The utilization of light can make or break the feeling of a small space. We recommend adding wall sconces to the wall to add more light and decorative style to your space while saving valuable real estate.
LED lights can add a variety of light colors to the wall or even your ceiling which can adjust the feeling of the area.
Rooms with a window or two have an advantage in their capability to add natural light to a space. If you are considering downsizing, look out for the number of windows offered in each room.
Mirrors
The use of mirrors in a small room can trick the mind into thinking that the room is actually twice as big. When placed slightly above eye level, the reflection of the room in the mirror will double the visible "space" within the room.
If you face a mirror towards a window, the mirror will help illuminate the room by reflecting the natural light from outside.
Mirrors placed on shelves can also help reflect light from your wall lighting in your apartment or house. You can use mirrors to bounce light throughout the room and save money on electricity if set up properly.
A qualified property manager can help you find a small house, but it's up to you to maximize the interior of your home. Let DJW help with the first part of your home journey.