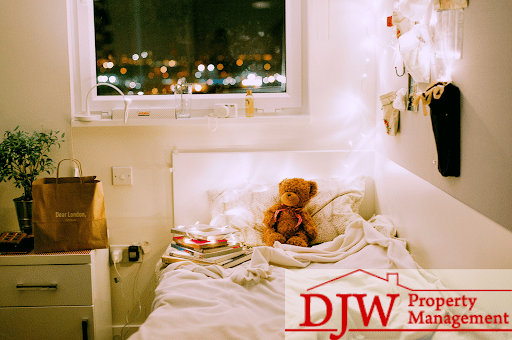 The Comprehensive Guide to Renting During College
You're headed to college! This exciting time in your life comes with new knowledge and new experiences, one of which is the joys of living in your own place.
As a college student and a first-time renter, navigating the rental market might be a bit confusing. Where do you start? What do you look for? What should you know before you begin?
It may seem like a large hurdle to get over, but we promise that renting isn't as scary as it seems to be. Follow our guide below to have a stress-free time renting in college.
Find the Perfect Location
Did you know that most students actually live off campus? It's true! Whether they want their own room or want to save a bit of money, many students choose to forgo student housing in favor of off-campus housing options.
If you're part of this majority, you'll need to decide where you'd like to live! While it may seem like the obvious choice, you don't have to live in the same city as your college.
Let's say you're an incoming Boise State student. You could rent an off-campus apartment in the college town of Boise to reduce your commute to your classes. But if you own a car or have reliable transportation, you could also choose to live in Meridian or Nampa. Judge locations based on transportation availability and access to surrounding amenities.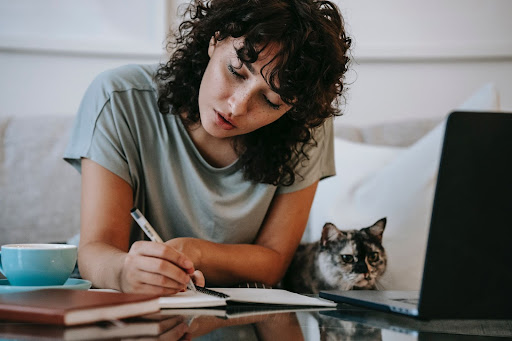 We suggest you go apartment hunting several months before school starts up. This way you'll have plenty of time to do your research and find a home you'll love.
Keep in mind that some colleges require students to live in on-campus dorms during their freshman year. If that applies to your school, keep this guide in your back pocket for your sophomore year!
Select Your Co-Signer
As a college student, you likely do not have the best credit history or rental history under your belt. This can often cause property managers to feel uncomfortable renting to you, but there is a way to help ease their anxiety. Obtaining a co-signer for the rental property may help you as a rental newbie.
Typical co-signers are family members, like your parents or spouse, or close friends. This person can allow you to qualify for an apartment that you may not have been approved for previously.
Be sure to discuss exactly what it means to be a co-signer with your chosen person before you both agree to sign the lease. If you default on your payment it will be up to the co-signer to pay your rent. They are on the lease agreement, so you should know that they will have the same rights to the property as you.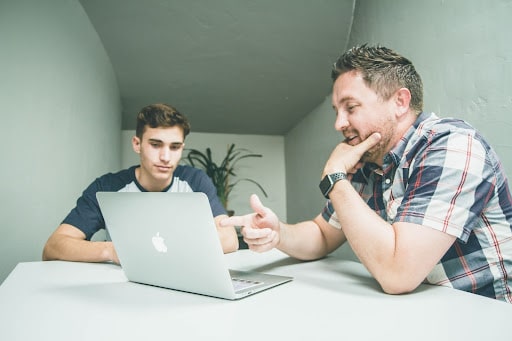 Look for Roommates
Due to rising housing costs, many college students are not able to afford to live on their own, and instead have to live with a roommate or two. Roommates are a quintessential aspect of the college experience made even better by living off-campus in college towns. Instead of a school-assigned random roommate, you're free to choose who you'd like to live with.
You can visit Facebook groups that are made up of other students to see if any are looking for a reliable housemate, or you can gather your best friends from high school and become roommates! Living with roommates is fun; it's like hanging out with your friends 24/7. Plus, it lowers your rent and allows you to save money! The more roommates, the more fun – and the less you typically have to pay!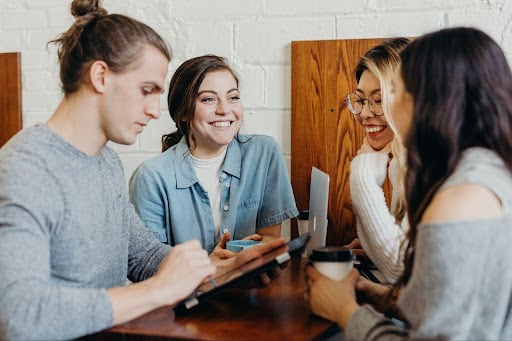 Ask Plenty of Questions
As someone new to renting, it comes with no surprise that you may have plenty of questions. That's a good thing. If you are confused about anything or would like to gather more information about anything you come across in your rental search, don't be afraid to speak up. 
Use these questions as a jumping-off point to form your own inquiries about the property.
What are the upfront costs?

What do I have to do to retain my security deposit?

When is the monthly rent due and what is the policy for late rent?

Are there move-in fees?

How do you address property damage?

How long is the lease and when does it begin?

Does the property have any repairs that need to be done?

What utilities are included in the rent and what am I responsible for?

Can I make any modifications to the rental?
Build Your Credit Score
Having a high credit score can help you a lot in the long run, but when you're just starting out it may seem impossible to raise your starting number. Not to worry! You can use your first apartment as a way to build your credit score!
Make sure that you pay rent on time and in full to obtain a good payment history. You can have this reported through a rent-reporting service, which in turn, will help raise your credit score.
Having a good payment history on your credit report can also make it easier when it comes time to rent again.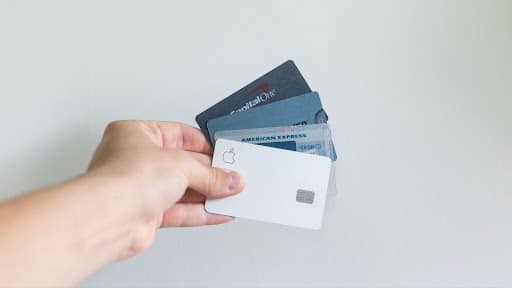 Purchase Renters Insurance
You've spent good money on the items that you own, and you'll want to protect what you've purchased in your new home. Purchasing renters insurance will do just that.
Renters insurance protects your belongings from loss or damage due to theft, water damage, or other covered events. Your items will be insured up to the policy limit, so be sure to choose the one that best covers your belongings.
Renters insurance will also protect you from personal injury liability claims made by those visiting your property. Policies will typically grant $100,000 of liability allowance.
Save Money During College
Many first-time renters often find it a bit hard to meet the many expenses that they suddenly accrue in college. The month's rent, various bills, transportation costs, college tuition, and entertainment costs can become a challenging balancing act.
It sounds scary, but don't give up your dream of living in an apartment during college just yet. There are plenty of ways to save some cash as a college student that won't have your wallet or bank account crying.
The Food Situation
As a college student, you're undoubtedly going to get very busy. You have a packed schedule full of classes, jobs, studying, and socializing to worry about. But where exactly does eating fit into the rest of your to-do list?
It may be tempting to go out and get a quick bite to eat for dinner when you're in the middle of everything. It's quick, typically cheap, and fairly filling. But this isn't the best habit to get into as all that money adds up fairly quickly. Instead of going out every night, we suggest purchasing a meal plan or cooking for yourself.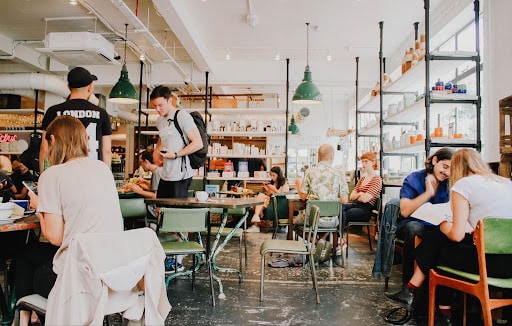 Meal plans allow you to save time on cooking, while still giving you the restaurant feel to what you're eating. At the start of the semester, you will purchase a card with a certain amount of money or meal swipes on it. You will use that card throughout the semester to purchase breakfasts, lunches, dinners, and snacks at the college's convenience stores and dining halls. These cards are refillable and can cost anywhere from $300 to $3,000 on average.
On the other hand, you can cook for yourself! A great way to save money and build life skills, cooking enables you to make whatever you'd like whenever you'd like. You can split the task with a roommate as a fun bonding experience or go solo-chef in the kitchen. Most college students will spend $600 to $1,000 on groceries a semester, meaning that you'll be saving quite a bit of money as well.
Buying Your Books
One of the most notorious college expenses that students face is textbooks. With some courses requiring the most recent edition and other courses requiring more than just one book, incoming college students are sure to see their book budget rising. While there is no way to get around buying your required textbooks, there are a few things that you can do to help mediate the costs.
The first way to help get textbook costs down is renting! You can either rent your books from your college bookstore or an online service like Amazon or Chegg. These rental textbooks can be physical or e-copies of the book, allowing you a wide range of flexibility depending on your learning style.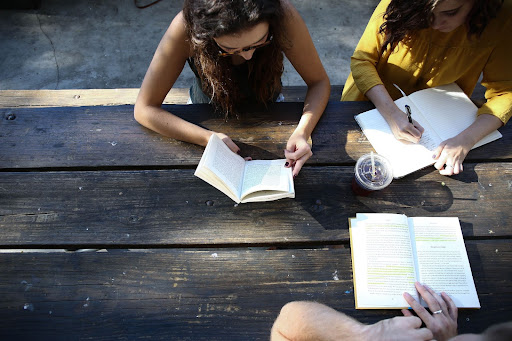 You can also utilize the library for your textbook needs. Many college libraries will have copies of your textbooks available, but they won't have enough for everyone in your class. Check your library before the semester begins, and always be sure to get there early if you need to borrow a book.
There is still a way to save money on your textbooks if these solutions do not work for you. End-of-semester buyback programs hosted by your campus bookstore or local stores can often fetch you some money. Sell your books and get a few extra bucks to put towards something you'd like – or next semester's textbooks.
New Versus Used
Moving into a new place gives you the experience of independence, and you'll want to make that your own. This often means purchasing a brand new wardrobe and brand new furniture to decorate with. While fun and exciting, this can cause your expenses to shoot up.
Instead of shopping new, try to search out used or discount furniture. Who knows, you may be able to find a diamond in the rough to furnish your room with!
The same goes for clothing. Instead of buying the newest outfits, hit up a thrift store or online marketplace to see what you can find. It's a great way to save money and find some hidden gems in one fell swoop.
Use Your Student Status
Did you know that as a college student you have a status that saves you money? It's true! Many shops and businesses offer student discounts for people who can prove they are a student. This holds true of many online businesses as well, and it's a great way to save money on your normal purchases!
Many colleges will also have a public transportation system available to their students for free. You'll just need your student ID to take advantage of it.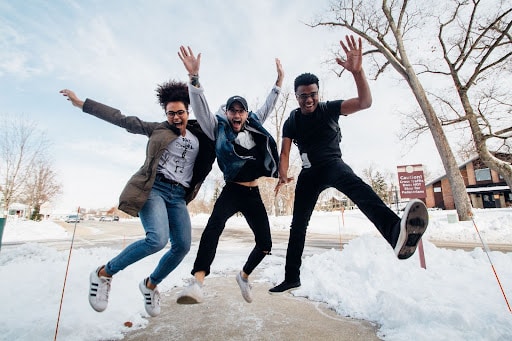 Find the Perfect Job
One of the easiest ways to save money during college is to actively have a source of income. As a student, you'll most likely only be able to take on a part-time job, but that doesn't mean you should skip one altogether.
Not only do jobs help build character and provide you with experience for your future career, but they also provide you with proof of income for your rental application. If you're able to find a job that suits your schedule and career goals while netting you a pretty penny, you're already setting yourself up for success.
If you're looking for an apartment to rent during college, DJW Property Management can help! Our property manager strives to provide you with a pleasurable renting experience and a clean living space. If you have any questions about being a first-time renter, don't hesitate to reach out and give us a call.