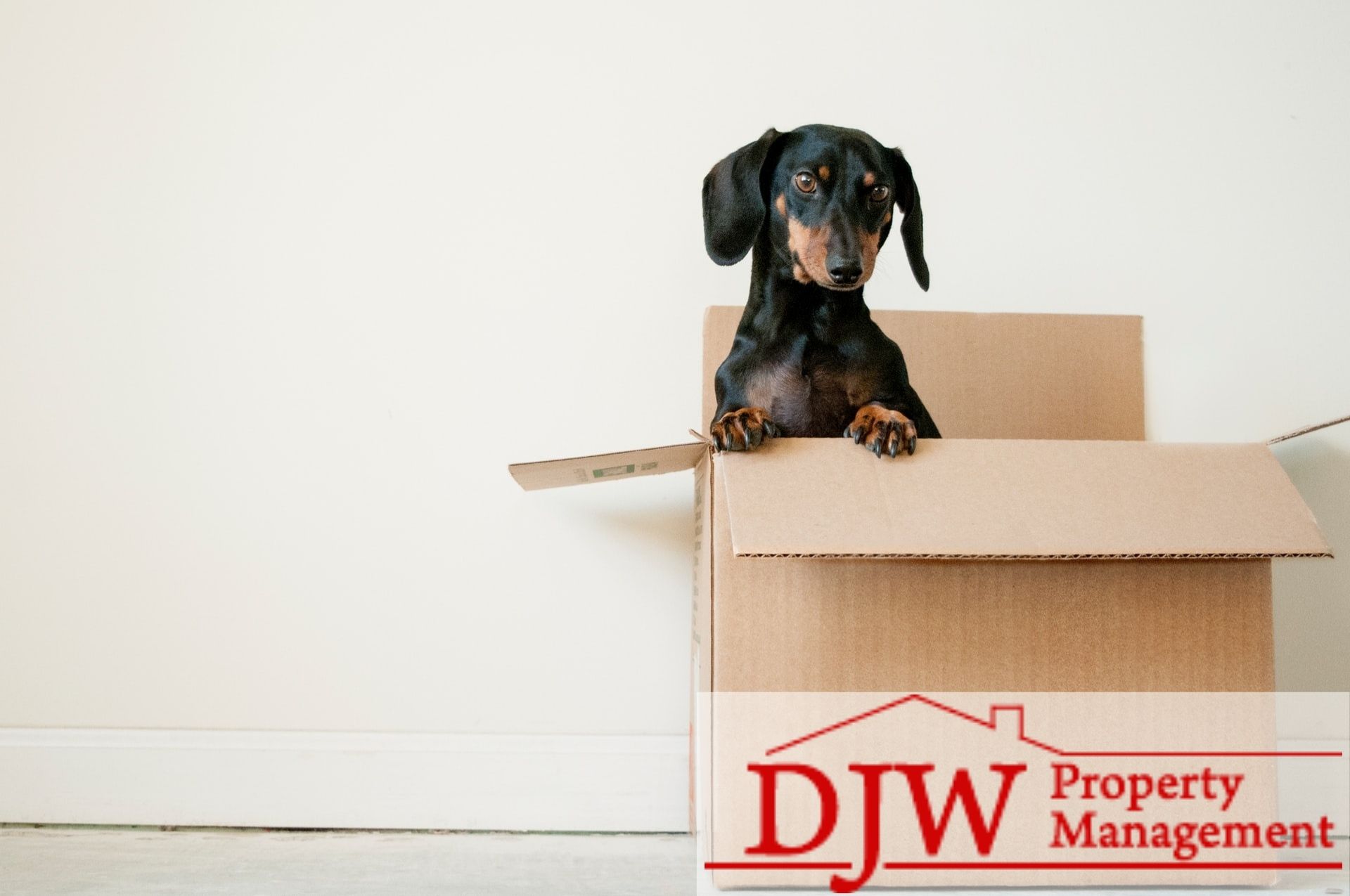 Moving out of your rental can be time-consuming and cost you money if not done correctly. Because relocating to another house comes quicker than expected, some tenants do not have the time to thoroughly clean and repair their old rental, resulting in a smaller security deposit return. To help you get your full security deposit back and stay organized while moving out, DJW Property Management has compiled a checklist to make your moving process easier!
Strategically Pack Your Belongings
If your rental is not fully furnished, the transfer of large furniture and appliances can slow the process drastically. Try borrowing a truck from a friend or renting a storage truck to haul the heavy items before packing your smaller belongings. This will help you navigate and clean your house or apartment easier. Once the furniture and larger appliances are relocated, packing room by room will help you stay organized and not forget anything. Not only will you be able to store your belongings from the same area in the same box, but it will also make the next move-in process more organized. Eliminating the loss of personal belongings while staying organized for the future is a no-brainer!
Continue With a Deep Clean
Because cleaning your rental property is required when moving out, your cleaning quality determines how much money you will receive from your security deposit. A good principle to use when cleaning your rental is to leave the property the same or better than it was before you found it. Depending on how long you have been living there, the accumulation of stains and smells have likely tainted your residence. Using disinfectant spray and stain removers will diminish your aroma and rid any stains that would likely affect your returning deposit.
Scrub Kitchen and Bathrooms
The kitchen and bathrooms gain the most traffic in a house requiring the deepest clean. Although it may be the least fun part of moving out, thoroughly cleaning your bathrooms and kitchen will help you avoid a deduction from your deposit. Bathrooms and kitchens build up easier and are often more noticeable because of the bright colors. Don't let your home seem dirtier than it is. Using bleach and other toiletry cleaning products will make cleaning gunk and grime easier.
Donate or Dispose!
Leaving broken or unwanted belongings after moving out of your rental can be detrimental to your security deposit. Make moving more efficient by only taking the things you desire. The disposal of old appliances at your local dump or donating things such as old clothes can also give back to the community! It also makes the transition easier without having to deal with items you no longer want in your next home.
Hire a Professional Carpet Cleaner
If you are working with a property management or rental company, you may not be required to hire a carpet cleaner because it is included in the lease agreement. However, if you are required to clean your carpet, hiring a professional carpet cleaner will be more beneficial than doing it yourself. Especially if your house contained pets, a professional carpet cleaner will be able to remove the house's smell while making the rental look as good as new! Without a professional carpet cleaning service, your security deposit will be more at risk for a deduction.
DIY Any Easy Repairs
After your rental has been fully cleaned, fixing any easy repairs will help you keep your security deposit. An easy repair is simply anything that does not require the work of a serviceman. Your property manager or landlord will take care of that through a maintenance request or form.
DIY repairs are almost always a cheaper solution than running the risk of your security deposit getting taken. There are usually videos or guides that can help you through your repair process.
One thing to note is that if something was broken when you moved in, you should have notified your property manager or taken photos so you have proof. If they were aware of this damage then you are not responsible for fixing it and they cannot take the money out of your security deposit.
Ensure that your belongings are organized and your rental is as clean as can be with DJW Property Management's move-out checklist! If you are in the process of moving rentals, don't hesitate to contact us for recent rental listings!
Don't forget to follow our Facebook and Twitter for updates, new listings, and more!