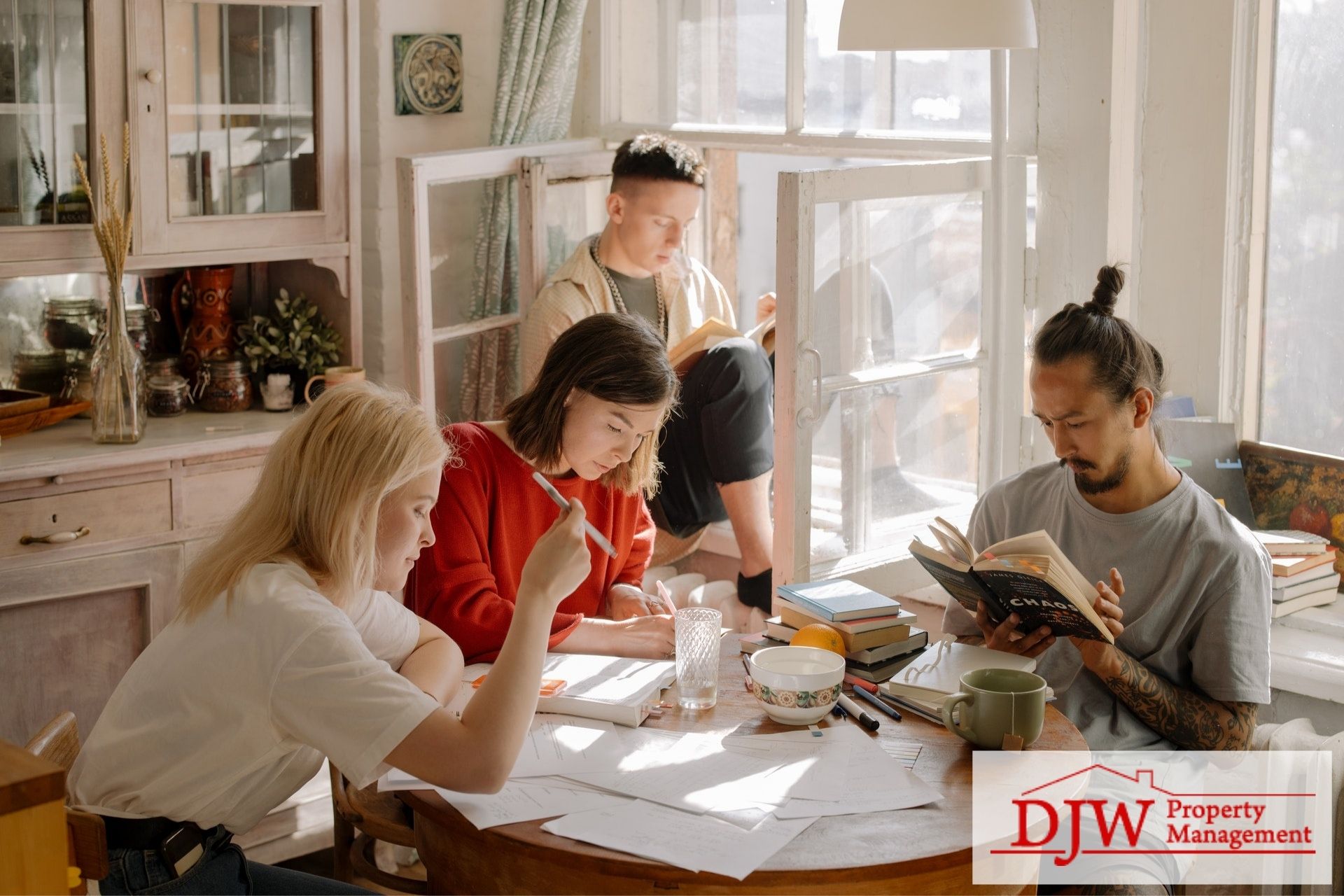 The time has come when you finally get to move out of the dorms and into your first rental home! This is likely the first home where your parents aren't there to tell you to pick up after yourself and where you get to live with your closest friends, and creating the perfect living situation all starts with choosing the perfect rental home. To help guide you in the right direction, the DJW Property Management team has compiled some of the most important tips for finding the right college rental. Check it out!
Do A Walk-Through
When a house gets posted online, pictures can make it look different than it actually does in person. Doing a walk-through before signing a lease is the best way to make sure the house is in good condition and you are getting what is advertised. When a rental gets posted online, there is usually a way to set up an appointment to view the house and chat with the owner or property manager. This is also a good opportunity to scope out what kind of furniture or appliances you will need when you move in!
Document Any Damages
Getting your deposit money back is really important when you're a college student on a budget. In order to get your full deposit back when you move out, you should document any damages before you sign the lease or pay the deposit. Taking pictures or writing down any scuffs on the wall or broken tiles can save you from having to pay for it to be fixed when you move out!
Set A Budget
If you are moving in with roommates, everyone might have different expectations for what you will be paying every month. Determining how much you can afford is the first big step in setting a housing budget. Once everyone has figured out their financial situations, then you can start looking for homes that fall within your price range!
Find A Safe Neighborhood
Finding a safe neighborhood will not only give you peace of mind, but also your parents as they will be constantly worrying about your safety. There are many ways to check if the neighborhood you are looking in is safe! Many homes surrounding college campuses are safe locations, but the safer part of town may be farther away from campus so it is worth looking over there as well! It all just depends on what city you live in.
Start Looking Now
College houses get snatched up quickly, with many getting reserved in early winter for a spring/summer move-in. This is the season when everyone is looking to move off-campus and many houses are freeing up because of seniors who are moving away. If you want to get ahead on finding the perfect house, then you need to start looking now! Searching online or asking the people who you know are moving out is a good way to get started without making any major commitments.
Finding the right college home removes the stress or worry that can come from your living situation. If you have any questions about finding the perfect rental home for you, contact DJW Property Management. We are happy to help!